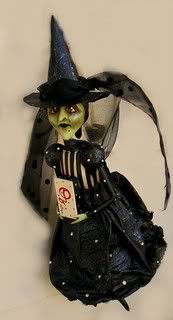 Have you ever heard of Etsy? It has been making a buzz in my ear for almost a year now, and I decided to list some things and see what happens.
This link will take you there :
http://www.etsy.com/shop.php?user_id=71014
ETSY is a younger, and sweeter site than EBAY that is filled with artist selling their own hand made little pieces of heaven.. I encourage you all to visit!
I learned this week that the PFATT Marketplace.
www.pfattmarketplace.com
will be celebrating Halloween in June! Woo hoo! I love Halloween, and this will be my first opportunity to release Halloween 2007 Whimsies. It's going to be a BIG happening filled with Prizes! I will be donating a prize, as over 30 other artist. Mark your calendars June 10th, 2007!
This picture is my interpretation of the Wicked Witch of the West. It was the last piece sent to Ashton Drake. I hope you enjoy it! Have a great weekend