Saturday, February 17, 2007
Posted by

CCs Whimsies
at 9:46 PM
8 comments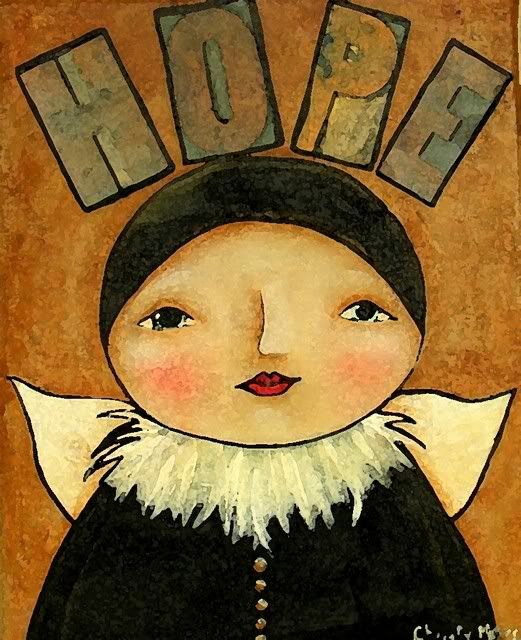 Without HOPE, the human spirit just dies...Living in the NW, we go without sun for periods of time, and it really takes its toll on me during Winter and Spring. This week I listened to some great videos and did some positive affirmation work, and that is exactly what I needed to lift the "gray" from my day.
I also tried something totally new and made an "Artist Reel" with many of my favorite Whimsies. I've had the music selected for quite some time, but finally sat still long enough, and made it happen. I am impatiently waiting for it to upload, and when it's done, I will shout it loud!
I have 2 EBAY auctions ending tomorrow night, so please come on by...
I will also be listing my HOPE painting and several Spring time Whimsie babies tomorrow. Until tomorrow...
Posted by

CCs Whimsies
at 7:57 PM
2 comments


Friday, February 09, 2007
I told you it's been a strange week!! ha.ha.ha.... Tomorrow... or late this evening. I hope you will find a Whimsie to love. Love, Christy
Posted by

CCs Whimsies
at 2:06 PM
2 comments


This Sunday, February 10th, another release of
www.pfattmarketplace.com
. I am so proud to be a part of such a wonderful collection of Folk Artist. Here is a little peek at what's new:
There are auctions ending Friday, Saturday, & Sunday this weekend. So please check them out.
This week has been so very strange. Filled with miscommunications, elation, dispair, and hope. I am so very lucky to be a person following their dreams, and I try to never forget it... I am always looking for ways to grow my business and myself as a person. Sometimes there are so many options that I get so confused, I do nothing... I've been searching and praying for a direction for the past 13 months, and although I don't know the answers, I feel I'm getting very close to the conclusion. Something Big is just around the corner...I can feel it... If you know my work, maybe you have a thought on what a Whimsie girl is to do... Leave me a comment. I'm really interested!
Posted by

CCs Whimsies
at 1:56 PM
1 comments


Thursday, February 01, 2007
I do love rabbits and Springtime so very much, and however fleeting, my Springtime creations give me a smile. Here is my newest on EBAY, as well as an Americana Clock. All ending Sunday, February 3rd. Working on more for the upcoming week, and starting to feel the Halloween bug in my ear.. I know, I'm strange... ha.hah.a
Posted by

CCs Whimsies
at 4:07 PM
5 comments