Sunday, January 28, 2007
"Watch Over Me" Guardian Angel bunny... Available on EBAY until Sunday, February 4th at approx. 5:30 pm PST
http://cgi.ebay.com/ws/eBayISAPI.dll?ViewItem&ih=002&sspagename=STRK%3AMESE%3AIT&viewitem=&item=120080830309&rd=1&rd=1
Posted by

CCs Whimsies
at 7:50 PM
1 comments


It's been a tough couple of weeks for both of the above. No matter how many you have, you always have room for more.... As I have gotten older, I have found that you must hold your friends and family very tight, and always take the moment to express how much you love them. I would like there to be no doubts in how I feel!
Many of you know that I have a special partner here in Whimsieland and his name is Greg, or commonly known as "ELF". He has always been my partner with this adventure that I am on, and as of this week, we are even more joined at the hip! Elf's regular "day job" has been very slow and sporadic for the past 6 months. A new job is coming, but there will still be some room to help me more.... so Elf and I have agreed to expand Whimsieland with new designs, Website updates, and more sales. We've had our first "strategy meeting", and it makes me smile that he wants to be so involved. And being a man, he really needed some organization, so cleaning out commenced. (He even re-organized several areas, that just made more sense to him... I thought it was so sweet) I love him more than he will ever know!
Tonight you will see the first of many Whimsies to be ready for adoption. Please take a minute to check them out... on EBAY:
http://search.ebay.com/_W0QQfgtpZ1QQfrppZ25QQsassZccswhimsies
Posted by

CCs Whimsies
at 9:16 AM
0 comments


Tuesday, January 09, 2007
January PFATT Marketplace Release: Well, things get a little exciting when it comes to artist "dead-lines"... Just ask anyone... It is nothing short of the Exorcist or as emotional as "It's a Wonderful Life"..depending on the moment. I spend way too much time agonizing over the details, especially when I am happy with the piece... "just don't mess this up now"... Finally, you give into the ticking clock and exclaim.."it's just got to to do"... run around take pictures...edit all the pictures...upload all the pictures... write a little something about each of your creations...then fall down! WHEW! Another successful flight.... Go to http://pfattmarketplace.com/ccswhimsies.html to check out the fruit of my labors.
Be Still my Heart...


Pax = Peaceful


Patience = To Endure

Posted by

CCs Whimsies
at 11:04 PM
3 comments


Monday, January 01, 2007
Feeling Pink? I love this painting, so it will be a part of my picture test.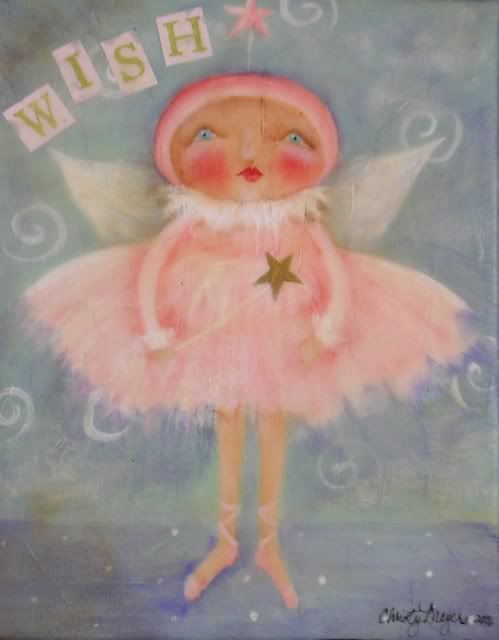 Posted by

CCs Whimsies
at 8:42 PM
3 comments


NEW BEGINNINGS:
Happy NEW YEARS!!!! The whiteboard is washed clean and anything is possible! The holidays were so enjoyable, and the two week break... was FANTASTIC!! Now when I say two week break, I really don't take a total break from my work. (How can you not do something you love) I "piddle"... just doodle, play with little lonely projects waiting for me to finish, and try to organize! I did accomplish all of the above. I made promises and goals for myself, and really look forward to achieving ALL of them.. (no pressure..ha.ha.ha.) Here are a few of the promises I made... 1. Show the Whimsies to the World...(send them to visit magazine editors) 2. Find a quality Craft/Art show and exhibit. 3) Experiment with canvas, collage, and reproduction of the Whimsies. I hope only the best and good health to all of you! Happy New Years!
Posted by

CCs Whimsies
at 9:24 AM
0 comments