From Left to right... front row: Penny McAlister, Sandy Woods, and me
back row: Iva Wilcox, Deb Wilkinson, Lori Davis, Kathy Hunka,
Joyce Stahl, Robin Seeber, Joanne Harper, and Colleen Moody
We are back from PFATTfest 2008, and what a BLAST!!! Five states and a dozen or so Pfatties attended, our Annual event. Lots of laughter, drinks, shopping, and talent filled our house. I hope this happy heart keeps my going forward into the coming months.
I will have an offering for the
Pfatt Marketplace
, and I hope you will stop by... Again, thank you from the bottom of my little Whimsie heart for your continued support and love..... Which brings me to my last announcement. I am honored to announce a very heart warming award.... from my fellow artist on Ebay... Considering I've been so absent, the fact that anyone remembered me, still AMAZES me! THANK YOU!! THANK YOU!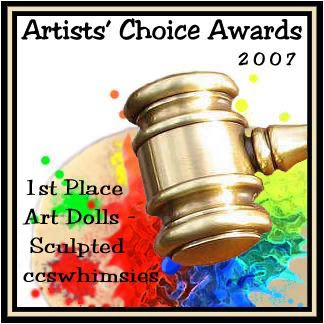 Time to put on my jammies and head towards the last cup of coffee.... (Yep, that's me in my new kitchen)... Good night!